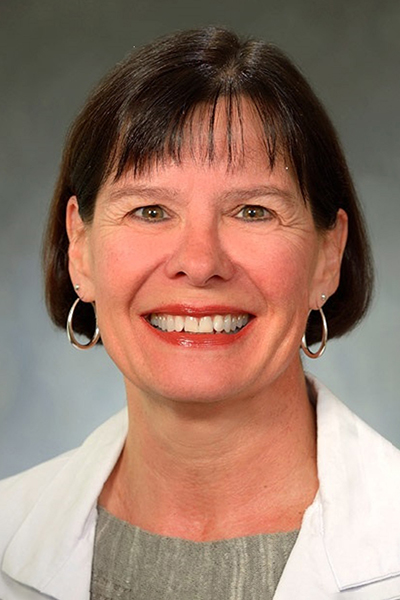 ACR Convergence 2021 again will bring the best in rheumatology education and networking together in one place.
Circumstances require the meeting to once again be in a virtual format, and the Annual Meeting Planning Committee (AMPC) has worked diligently to make this year's meeting even better than the 2020 edition.
AMPC Chair Sharon L. Kolasinski, MD, FACR, shared what went into planning for ACR Convergence 2021 and what attendees can expect. Answers were edited for length and clarity.
What makes ACR Convergence 2021 unique from other rheumatology meetings?
The size and breadth of ACR Convergence 2021 makes it stand out from all other rheumatology meetings. Not only does it attract an impressive number of participants from around the world—we had the highest attendance ever at last year's annual meeting—but it will welcome and showcase the work of trainees, practitioners, researchers, and rheumatologists, a broad range of health professionals committed to the care of patients with rheumatic diseases, specialists in adult and pediatric rheumatology and a very rich array of contributors and the highest quality scientific information that our participants have come to expect and depend on.
What's new this year that attendees should know about ahead of the meeting?
The inaugural Global Rheumatology Summit will be held on Wednesday, Nov. 3. This new advance programming course will feature global research, case discussions with global experts and a session highlighting the role of community health professionals in improving patient care and outcomes. The Basic Research Conference and Clinical Research Conference will be combined this year to offer a very high impact and up to the minute discussion of the rheumatologic complications of SARS-CoV-2 infection.
And there will be more Community Hubs, including educators, the business of rheumatology, aging, early career, and ultrasound. We're also expanding the Community Hub programming and making it easy to find by including it in the full meeting agenda so that more participants can access the terrific networking and collaborative opportunities the Hubs offer. One of the exciting things from last year was recognizing how many people felt more comfortable asking questions and making comments in a virtual environment. We want to take advantage of that in the Community Hubs. Each Community Hub has a hub host in charge of developing content, and we've encouraged them to think creatively about engaging people more and providing formats and topics that allow for more interaction.
What were the committee's guiding principles or goals for this year's meeting?
The Annual Meeting Planning Committee is made up of representatives from the many constituencies who rely on ACR Convergence to be their most important source of information on new science, new treatment options, and updated practice standards. Our top priority is to deliver the highest quality, most current content in rheumatology to the widest audience possible. The size and complexity of that endeavor have made it just as important for us to evaluate and refine the way that content is delivered.
A big part of that is improving the virtual platform with better quality audio and visuals that help us put all the pieces together. System logistics was an important focus for us. Another key thing is recognizing the huge global audience that we have and what that means in terms of time zones and scheduling content. We wanted to be very careful to make sure that sessions of interest to people were not overlapping or forcing choices between too many sessions with similar content.
How will having the meeting virtually for a second year impact the experience, and how did you build upon last year's experience when creating the 2021 meeting?
We learned a lot from last year's experience with the first all-virtual annual meeting. Participants gave us a lot of feedback about the ease of using the platform to access the meeting content and also the quality of audio and video transmission. We have a new audiovisual vendor for the platform this year, and we are looking forward to a superior audio and video experience for our participants.
What advice do you have for attendees for getting the most out of the meeting?
Taking a look at the meeting layout and agenda before the meeting begins will give participants an opportunity to plan how they want to approach the meeting. Every participant will be dealing with their own preferences and constraints, starting with their time zone and extending to which content they want to watch live and which they want to access on demand. As always, there will be many concurrent sessions, but one advantage of the virtual format is that you don't have to miss one session just because you are attending another!
What are some of the session-related highlights you expect from this year's meeting?
Sessions on clinical trial design in lupus, preclinical rheumatoid arthritis, osteoarthritis phenotypes and new directions in therapeutics, and climate, pollution and rheumatic diseases will be particularly noteworthy. Of course, The Great Debate is always a highlight. This year the focus is: Enhancing Lupus Nephritis Therapy: Is Your Next Step Belimumab or Voclosporin? And there will be content dedicated to diversity and inclusion that all attendees will find extremely interesting.
How will networking opportunities be worked into this year's meeting?
One of the most essential features of the annual meeting is to provide the opportunity to connect with our friends and colleagues and we have worked very hard to enhance the meeting design to help that to happen. In addition to expanding the interest areas covered by the Community Hubs, we have standardized the timing of Hub programming and encouraged Hub hosts to be creative in developing the format for new content this year and to focus on group discussion rather than adding more didactic presentations.
Our number one suggestion from participants was to provide more Q&A time, so for ACR Convergence 2021, we have expanded the Q&A time to ensure the speakers can address as many questions as possible. In addition, we have extended the time given to abstract presentations from 10 minutes to 15 minutes to allow for more in-depth discussion.
What else would you like to highlight about the meeting?
This year, ACR Convergence 2021 will feature the ShowRheum, our virtual version of the exhibit hall. Within the ShowRheum, participants can visit company/organization profile pages and view industry-supported sessions. In addition, we have some new features, including the industry resource library, mini-sessions, which are 30-minute sessions hosted by companies, and Lightning Talks, which are quick 5-minute presentations by companies.
To better support and strengthen rheumatology practices, we have created two special All-Access Passes with unique programming for practice managers, the office administration support team, and rehabilitation team members. The dedicated Business of Rheumatology and Rehabilitation programming will be held Monday, Nov. 8, and Tuesday, Nov. 9, respectively.
Business professionals often are not at liberty to be away from the practice for five days in a row, so we wanted to pull together all the business-related content into one day in a way that was efficient and high impact. Similarly, the rehab pass is for the many rheumatology professionals who have an interest in content related to the rehabilitation of patients with rheumatic diseases but who may not have the time or interest to take in the entire annual meeting.
To ensure the author most responsible for the work is able to present study findings, the abstract author eligibility criteria have been revised to permit owners and employees of ACCME-defined ineligible companies the opportunity to submit and present abstracts during ACR Convergence.
And American Board of Pediatrics Maintenance of Certification points will be offered for the first time.
REGISTER TODAY FOR ACR CONVERGENCE
If you haven't registered for ACR Convergence 2021, register today to access all of the valuable content during the meeting, November 3–10. Registration also includes on-demand access to the virtual platform (session recordings, Poster Hall, Community Hubs, and ShowRheum) until March 11, 2022.